Weather
The weather forecast is looking like rain or sleet for the duration of the race, and temperatures just above freezing. Please dress appropriately for the weather, Any fancy dress that is likely to absorb water should not be worn.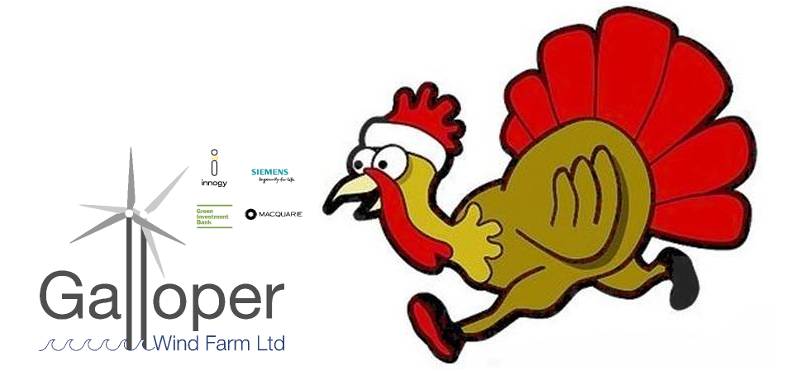 The 2017 Turkey Trot, kindly sponsored by Galloper Wind Farm Ltd, will place on Sunday 10th December, starting at 11am at the Beccles Sports Centre, Ringsfield Road. The Turkey Trot is an undulating 10 mile road race visiting small villages on the edge of the Waveney Valley.
There will be a prize for best fancy dress, as well as festive fayre for all finishers.
Entries
2017 Entries are now full. We sell slightly more entries than the number of starters we are allowed to give as many people as possible the chance to run, knowing that a small proportion will be unable to run on the day. Unfortunately this means that there is no possibility for transfers or deferrals and there will be no waiting list. No entries on the day will be taken.
Details
The race HQ is at the Sir John Leman School, Ringsfield Road – this is adjacent to the sports centre used previously, and changing rooms will still be available at the sports centre. All other facilities will be in the school.
Information from previous races – there are not expected to be any major changes for this year:
turkey-trot-2016-race-information-sheet
For more information, contact Tim Earl by email at email hidden; JavaScript is required